What's Target's Return Policy?
In general, Target offers returns and exchanges on unopened items in new condition for up to 90 days after purchase. Target Red Card purchases, however, have a longer return policy window of up to 120 days.
For online purchases, the same return policy applies, with each 90-day window beginning when purchases are invoiced, delivered, or made available for pick-up.
There are some exceptions to this policy, including:
Target Brand Purchases: All items that fall under a Target-owned brand are available for return or exchange for up to a full year after purchase.
Opened electronics such as movies, music, software, or video games only qualify for an exchange.
Airbeds only qualify for an exchange for a similar item.
Apple products must be returned or exchanged within 15 days of purchase.
Most other electronics and entertainment devices must be exchanged within 30 days.
Mobile phones must be returned or exchanged within 14 days and may be subject to a restocking fee if opened.
There are a few items that are not eligible for a return, which we'll get into below.
How Long Do I have to Return an Item to Target?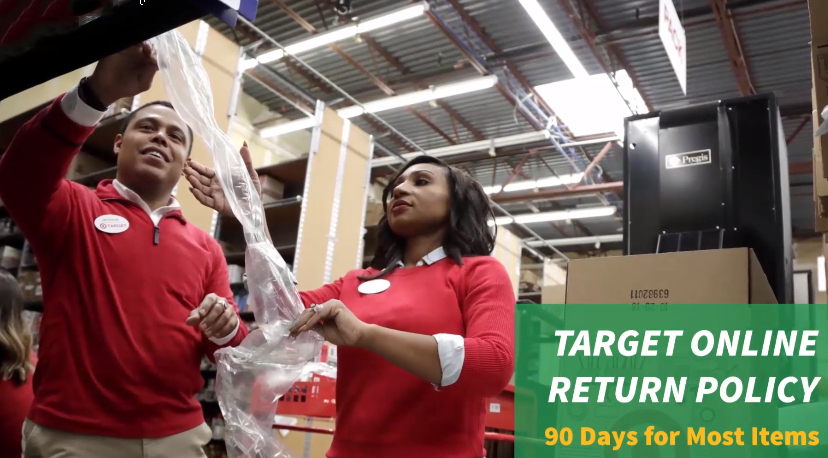 In general, Target will accept returns on items for up to 90 days or up to 120 days for items purchased with the Target Red Card. Items sold by Target-owned brands can be returned for up to a full year.
Some items have shorter return windows, however, such as:
Apple Products: 15 days
Most other electronics: 30 days
Mobile phones: 14 days
Does Target Accept Returns Without a Receipt?
It is possible to return an item to Target without the receipt, but be aware that your return will be issued on a merchandise return card. While Target doesn't specifically address exchanges without a receipt, the good news is that there are several easy ways to locate your proof of purchase.
If you have a Target.com account, then log on and navigate to the "orders" section. There you'll be able to see any online and in-store purchases you made using a card associated with your account. Simply click on your purchase and you'll be able to pull up the invoice.
Target may even be able to help if you paid with a major credit card. Just bring your card to guest services and a representative will attempt to use it to pull up your order history.
If you received the item as a gift and do not have proof of purchase, then Target may offer you a merchandise return card as a refund.
Does Target Offer Refunds for Registry Items?
When it comes to unopened Target registry items, Target will accept returns for up to a full year after the date of your event. To initiate a return:
Log onto your Target account
Visit the registry section and select your registry
In the offers and benefits section, you'll find a "select a return" option.
Click this option and select the store you wish to return your item
This will generate a barcode you can use to complete the return in exchange for a Target gift card
Does Target offer full refunds?
Yes, as long as you return the item in new condition and within the proper return time period, you should have no problems getting a full refund. Generally, your refund will be processed back to the same form of payment that you used to make your purchase.
Can I return an Item to Target without the box or original package?
Having opened the original packaging isn't necessarily a deal breaker when it comes to Target's return policy. Target will offer returns or refunds on most items, even beauty products, as long as they are returned within the specified time window. Just be aware that returns or exchanges of open or damaged items will ultimately come down to the discretion of the manager.
How Long do Target refunds take?
The amount of time it will take for your refund to process will depend on how it's issued. Target Red Card refunds usually process within 2 days, while refunds to third-party card issuers can take up to 5 days to process.
If you return your item using Target's Online Return Center, then it may take an additional 7- 10 days for your refund to be approved before being issued.
Can you return an online purchase to the store?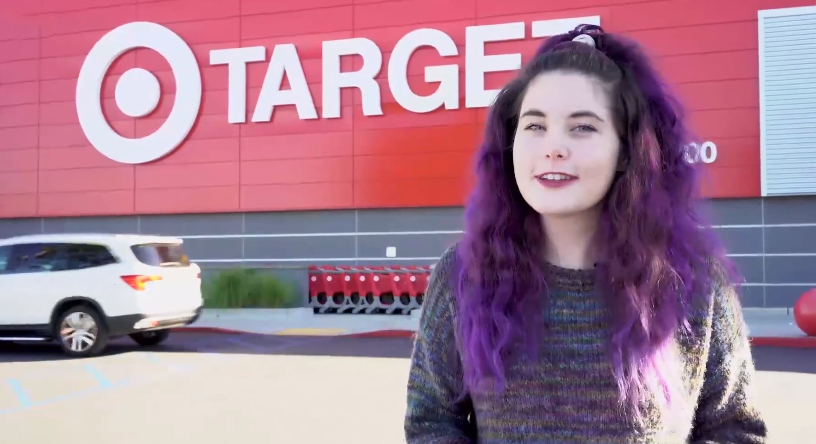 Absolutely. You can return any item purchased on Target.com at any Target store. Just make sure you bring along your proof of purchase, such as your receipt, delivery, or confirmation email, of the barcode or invoice you'll find in the Target app.
Some items may actually only be returnable in-store, which will be indicated on their product pages. This is usually the case with things like potentially hazardous materials that are more dangerous to send through the mail.
What's Target's customer service phone number?
The Target customer service phone number for online purchases is 1-800-591-3869. For store purchases, call 1-800-440-0680.
Does Target offer chat support?
Yes. Just enter some basic information and select the Target chat option and you'll be connected to a representative who can help.
How to return a Target item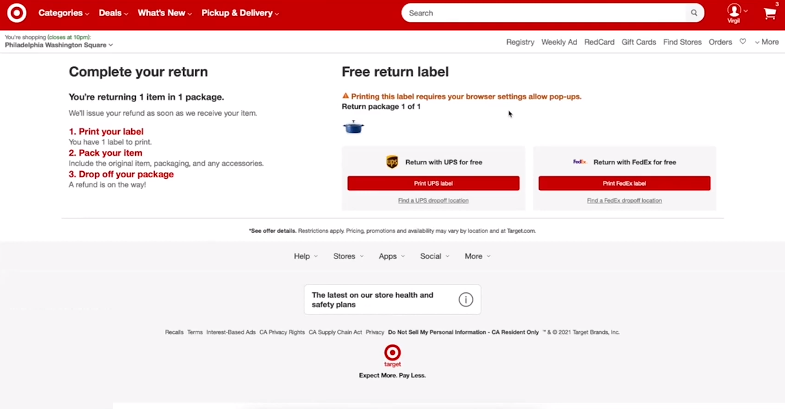 First, you'll want to make sure that your item still qualifies for return under the Target return and exchange policy.
If so, you'll then want to see if you can locate your receipt or proof of purchase. Target makes this a fairly easy process, especially if you made your purchase with a payment method associated with your Target.com or Target Red card account. If you can't locate your receipt but paid using a major credit card, Target may be able to look up your order using your credit card at customer service.
In-store returns:
For in-store returns, simply take the item, your proof of purchase, and (if applicable) the card you originally used to make the purchase to the customer service desk. An associate will be able to process your return or exchange.
Mail returns:
Target also offers free shipping for online orders returned by mail. In order to start the process:
Log into your Target.com account and locate the order that includes the item or items you wish to return.
Select the items and begin the online return process.
A free printable prepaid return label will be generated.
Print and attach the label to your package and send it back to the return address indicated.
Target will send you a confirmation email when they receive your order and provide you with an estimate of when you should expect your refund.
How Do I Check my Target order status?
Target.com orders are incredibly easy to track, using either the Target app or website.
Using the Target App:
Open the Target app and make sure you're signed in to your account.
Click on your name and select the "purchases" tab.
Select your order to get an update on its status.
Using the Target Website:
Log into Target.com and click on the orders option in the upper right-hand corner.
Select the order in question from your order history to see its details, including status and tracking information.
Target is also great when it comes to keeping customers in the loop through a series of emails. Once your order has been placed, you'll receive a confirmation email, as well as subsequent emails that include tracking information.
What items cannot be returned to Target?
There are a few items that are not eligible for return at Target. These include:
Collectibles or any sort that have been opened or are defective.
Personalized products or digital downloads
Breast pumps that have been opened or unsealed
Gift cards or pre-paid cards cannot be returned or exchanged for cash except for in areas where required by law.
Additionally, it's important to note that things like music, video games, and software can only be exchanged for the same item once they have been opened. The same applies to airbeds.
Conclusion
We give Target a very rare return policy score of 5, based on their thorough, generous, and comprehensive return policy. Given the wide variety of different products that Target stores are known to provide, the company has done an excellent job of providing a comprehensive overall return policy. Exceptions to the general policy are clearly noted and easy to understand.
Given the large range of Target stores, it's also incredibly generous for Target.com to offer free mail-in returns, as many competing retail brands charge a shipping fee. Additionally, while Target's receipt policy is less strict than those of many other retail stores, they also offer more assistance than most when it comes to helping customers locate proof of purchase.
By providing customers with plenty of help, support, and options, Target has managed to establish one of the best return policies of any of the stores that we've yet to review.