The Crocs' Return Policy
Crocs maintains a return policy that is convenient and quick. However, there still is a time limit in place that customers need to heed if they want to return an item to Crocs. Customers who purchase products from Crocs have a full 45 business days to initiate a return if they decide that they don't want a product. However, it's important to note that product cannot be damaged in any way if it is to be accepted as a return with Crocs. Shoes that are sent back for returns must not have been worn or washed. Customers will receive a refund via the original payment method once their return has been processed.
Although Crocs has a fairly lenient return policy, there are some restrictions. For example, customers cannot return or receive a refund on items that were marked as "Final Sale" items. Another limitation is that Crocs products that were produced for a special event or for a collaboration project cannot be returned and refunded.
The Crocs return policy offers free returns. Additionally, customers should be aware that Crocs offers a 90-day warranty so that they can be compensated if Crocs prove to be defective within 90 days of purchase.
Can I Return Crocs Shoes without the Box or Original Package?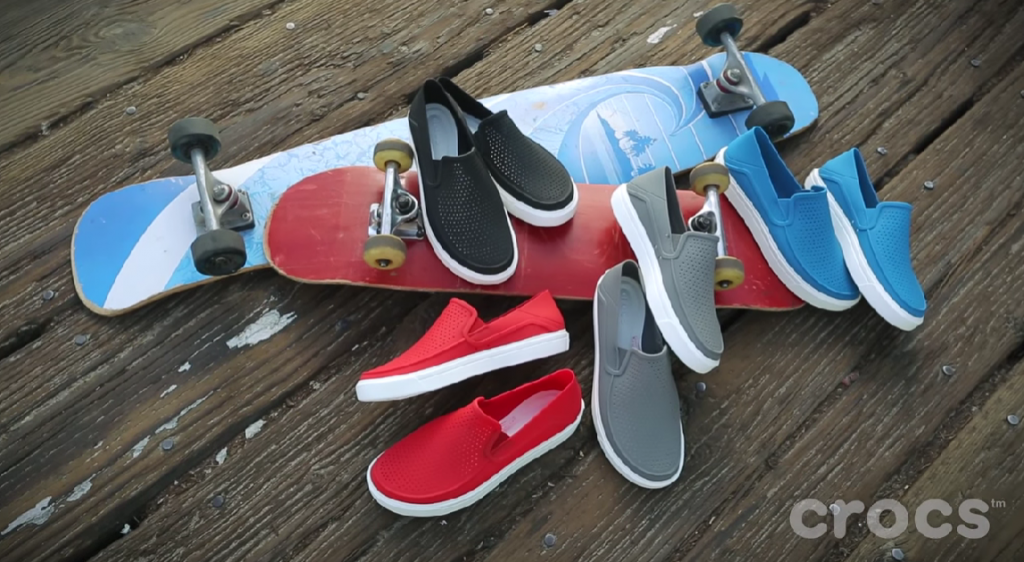 Customers can still get a refund on Crocs products even if they don't have the original box. Although the original box is not necessary to return a Crocs item, customers do need to make sure that the product they are returning is not dirty or damaged in any way. Crocs products cannot be returned once they have been worn.
Does Crocs Accept Returns Without a Receipt?
Some form of proof of purchase is necessary to return Crocs products. Customers need to have a receipt or Crocs needs to be able to verify their purchase if they want to return a product for a refund. It's typically easy for customers to provide proof of purchase for products bought online since customers should receive a receipt for their purchase by email.
However, an exchange without a receipt for a product purchase in store may not be possible if the item was purchased with cash and there is no identifiable record of the specific transaction. If you have a question about whether you can return a Crocs product without a receipt, you can call Crocs customer service to receive more information on the issue.
What's Crocs Customer Service Phone Number?
Customers can get in touch with Crocs by phone by calling 1-866-306-3179. Crocs customers service by phone is available around the clock during the week starting at 9 am on Monday until 5 pm on Friday. There is no customer service available by phone on the weekend.
How Long Do You have to Return an Item to Crocs ?
If you want to return a Crocs item, you will need to initiate the return within 45 days of the original purchase of the item in question. Customers will be unable to return a Crocs problem if more time than this has passed since the original purchase.
It's also worth noting that Crocs does offer a 90-day warranty on all products. This means that customers may be able to get a refund on a Crocs product if a manufacturing defect is discovered in the product within 90 days of the original purchase.
Does Crocs Offer Full Refunds?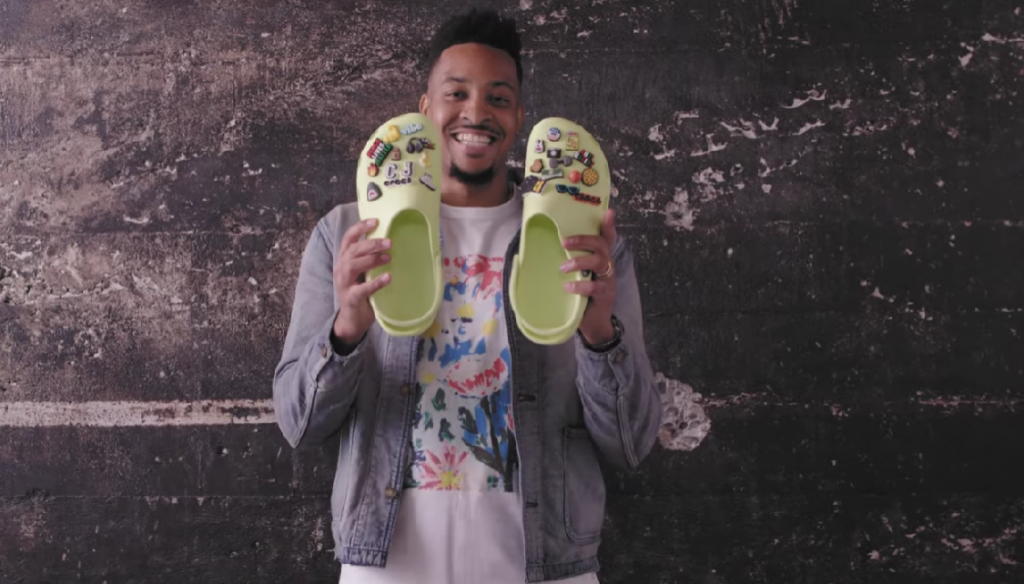 Crocs does offer full refunds to customers as long as the return is instigated by the customer within 45 days of the original purchase of the item in question. Crocs will even cover the return shipping costs for items that are returned within 45 days of purchase.
How Long Do Crocs Refunds Take?
A refund from Crocs will typically take somewhere between 10 and 14 days to process. This 10 to 14 days period starts once the return is received and not once the return is first initiated. Some customers might have to wait longer for their refund depending on the processing times for account credits at their particular financial institution or bank.
Can You Return an Online Purchase to The Store?
Customers have the options of returning online purchases either online or at a Crocs store location. Customers can locate Crocs retail locations near them by searching for stores using the Crocs website.
Does Crocs offer chat support ?
Crocs currently does not offer chat support to customers. Customers who wish to discuss an issue with a customer service personnel must contact Crocs by phone or by email.
How to Return an Item to Crocs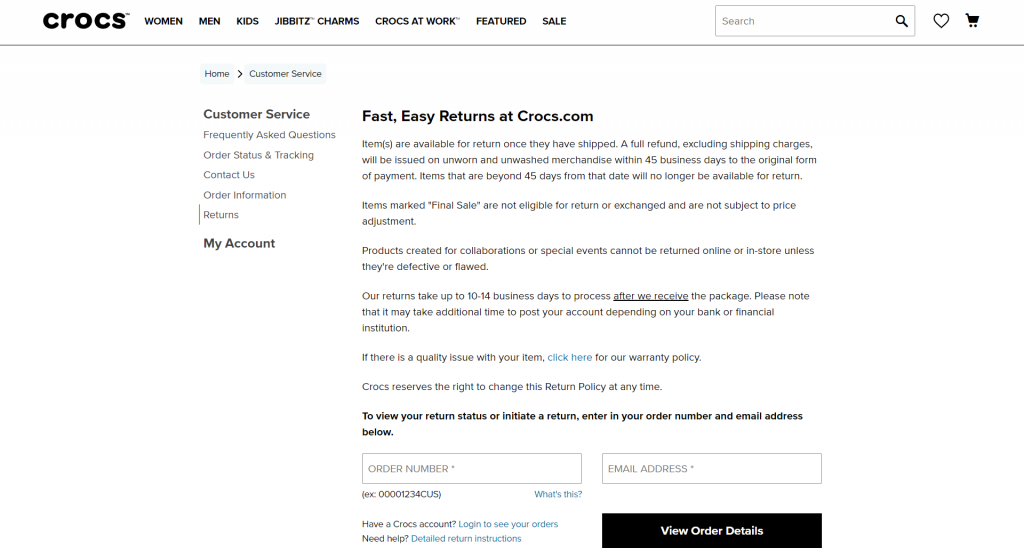 The process for returning a Crocs item varies slightly depending on whether the item is returned to a physical location by mail. Whether customers return their item by mail or in a store, they'll have the option of initiating their return online.
To start the return online, go to the Crocs returns page and enter your order number and email address. You'll be asked to provide some information including your reason for deciding to return the item.
If you want to return your item by mail:
You will be asked what your preferred shipping method is for getting the item back to Crocs. One option that you can choose is shipping the item by UPS. If you decide on UPS, you'll be provided with a UPS specific shipping label that is prepaid and a packing slip. You can use these to ship the item back to Crocs.
Additionally, you have the option to choose your own carrier when you send an item back to Crocs as a return. Crocs allows customers the option to choose a carrier and will provide a packing slip to the customer with the carrier of their choice.
Crocs stresses that customers should always record the tracking number for their return package when they decide to return their item by mail. Crocs will not provide a refund for a returned product that gets lost in the mail.
If you want to return your item in-store:
After initiating a return online, you also have the option of coming to a store to return your item to Crocs. This allows you to return the item without having to rely on the mail. Simply head in to your nearest Crocs retail location, have your receipt or proof of purchase and your item with you so that you can provide it to a customer service representative at the store and he/she will take care of the return for you
How Do I Check My Crocs Order Status?
You can get plenty of helpful information on your Crocs order or return when you check Crocs order status online. Crocs customers can access their order status via the company's website. This is a great way to get all the information they need quickly and conveniently.
Customers are naturally eager to know when their orders will arrive, and they can quickly find this information via the order status feature on the Crocs website. There are two ways for customers to access their order status.
Customers can log in to their account on the Crocs website to look up information on their individual orders including tracking details.
Customers can also look up their order status even if they don't have an account by entering the order number and email address at this link to look up their order status information without logging into their account.
What items Cannot Be Returned to Crocs ?
There are some items that Crocs will not accept for returns. One example of a Crocs item that will not be accepted by the company as a return is any Final Sale item. In addition to not accepting Final Sale items as returns, Crocs also does not allow any item that was produced and purchased for a special event or for a collaboration to be accepted as a return. However, Crocs will accept all other items as returns as long as the return is initiated within 45 days of the purchase of the item in question.
The Bottom Line
The Crocs return and refund policy scores 9 out of 10 thanks to the flexibility it offers to consumers who wish to return items. The return period of 45 days gives consumers plenty of time to decide whether they want to keep Crocs footwear. It's also important to note the 90-day warranty that Crocs provides that gives consumers confidence in the durability of Crocs products that they purchase.
The ability consumers have to return Crocs products both in-store and by mail is another huge advantage of the company's return and refund policy. Although Crocs offers a great return and refund policy with plenty of great advantages, there are a few limitations that Crocs customers should note. For example, Crocs customers should realize that they won't be able to return certain items to Crocs including Final Sale items and specially produced collaboration or special event items.
Another drawback that customers should note is the amount of time it can take for returns to be processed by the company. Consumers may have to wait as long as 14 days before they'll receive their refund after submitting a product return to the company.