Dancewear Solutions Return Policy
Dancewear Solutions allows returns on any product that qualifies for its policy (see below) for any reason. Their process is unique because it includes a physical form you fill out and send with the policy. In addition, they don't charge you for defective or incorrectly shipped items returned to them.
They also take exchanges if it is the same item in a different size or color and with the same value. You will have to pay shipping charges for all returns and exchanges, so make sure that you consider that before planning this process.
Go to dancewearsolutions.com

Dancewear Solutions
Can You Return an Item to Dancewear Solutions Without the Original Box or Package?
Dancewear Solutions asks that all exchanges and returns come in original packages with all tags attached. Damaged boxes may not be accepted, as well as any that have been written on or taped for any reason. Make sure you keep the box in great shape to avoid this issue.
They also ask that you place the package inside a separate postal box to ensure it is as protected as possible. Any items lost in shipping or damaged will not be refunded, and they suggest either the USPS or the UPS for all their returns but will take returns from other shipping firms.
Can You Return an Item to Dancewear Solutions After Using It?
Dancewear Solutions states that you cannot wear any of their items before returning them. Note that this does not mean you cannot try them on to see if they fit. Wearing an item means putting it on and using it for extended periods, not trying it on when you get it.
You also can not return any laundered items you've purchased. For example, if you tried on a dance dress and then washed it, you cannot return it. Laundering can affect the size and shape of these items and will invalidate your return. Dancewear Solutions will check to ensure it hasn't been laundered before accepting your refund.
How Long Do You Have to Return an Item to Dancewear Solutions?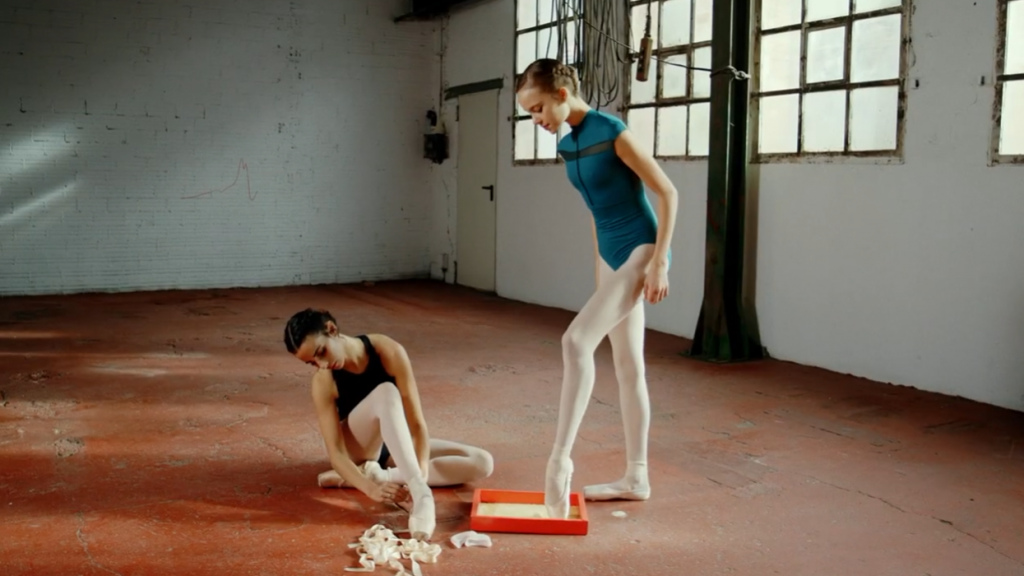 All items purchased at Dancewear Solutions online can be returned within 60 days: that's their wording. Unfortunately, that lack of precision is frustrating because it may confuse buyers as to whether they mean the date of purchase or receipt, which significantly changes the return window.
Typically, a 60-day return window applies to purchase and not receipt dates. It also refers to when you start your refund, not when they receive your item. So, if you send your item back within the 60-day window but they don't receive it until after, your return should be accepted.
Can You Return Something to Dancewear Solutions After 60 days?
No, Dancewear Solutions is typically fairly strict about its return window. Most apparel companies set up 60-day windows because they know you may not use clothes for some time. As a result, it is typically considered a more than far period, and returns after are not allowed.
Note that this may vary if you buy items at other online stores or in person. Dancewear Solutions gear may be available at various other outlets. Returns and exchanges are subject to their policies, meaning that you might be able to return an item outside the 60-day window.
Does Dancewear Solutions Accept Returns and Exchanges Without a Receipt?
Dancewear Solutions will accept returns and exchanges without a receipt if you have the order number sent after your purchase. When filling out the exchanges and returns form, you need to provide this information, or your return will be rejected. An invoice or receipt may suffice if you have one.
As for in-person purchases, that always depends on where you buy the item. Some stores may accept exchanges without receipts but rarely refunds. Therefore, you should talk with their customer service department before attempting a return to avoid embarrassment and frustration.
Does Dancewear Solutions Offer Full Refunds?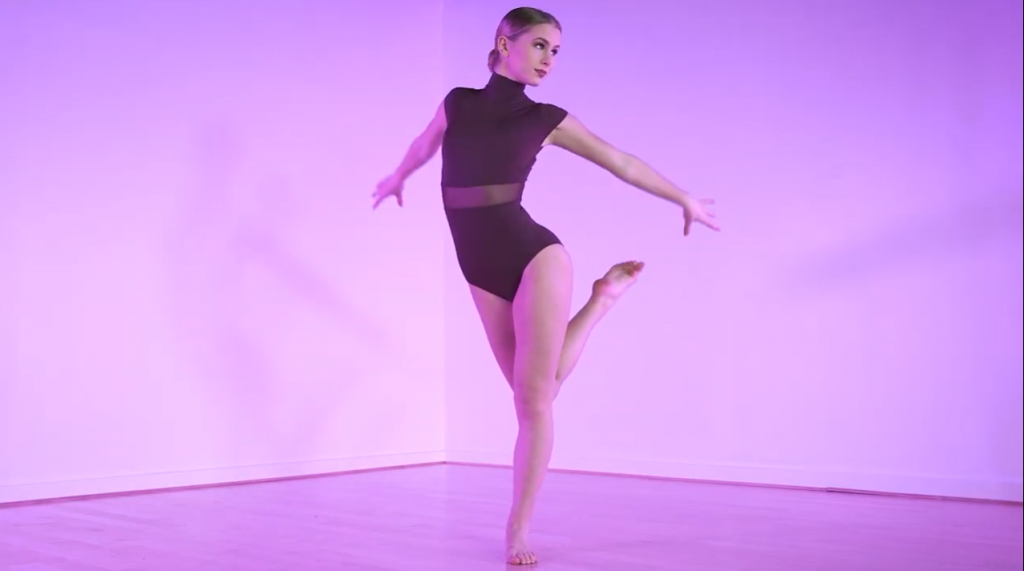 Dancewear Solutions will provide a full refund with some exceptions. These include the shipping and handling charges for your initial order and the cost of shipping items to them. However, they return and exchange merchandise at no cost to you, which is nice.
If you received a defective item or one that was shipped incorrectly, Dancewear Solutions would set up shipping arrangements for you. This means that they typically pay for your return costs, which is rare and much appreciated: it boosts them in our final score.
How Long Do Dancewear Solutions Refunds Take?
Dancewear Solutions states that processing a refund or exchange can take 7-10 days. This means it will take 7-10 days to ship to them after they receive the item, which can take 3-10 days. It takes this long because they must process it and ensure it can be returned.
For example, they'll inspect it for damage, test if it was laundered, and gauge if it can be put back up for sale. If not, they may refuse your refund even if they initially accepted it. That makes it very important to follow all their rules to avoid disappointment.
Can You Return an Online Purchase to the Store?
Though Dancewear Solutions may have its goods in various stores worldwide, its online purchases should always be sent back to them directly. Any store that did not directly sell you an item will reject your refund and exchange. The reverse is true of items bought in stores: you should not send them back using the online refund and exchange process, or they will be rejected.
What's Dancewear Solution's Customer Service Phone Number?
Dancewear Solutions' customer service phone number is 1-866-542-6500. You can call them when you want to start a refund, check on your refund, or get help ordering items. Customer service representatives can also help with other steps, such as checking how long your refund will take and providing additional information that will streamline your exchange process.
Does Dancewear Solutions Offer Chat Support?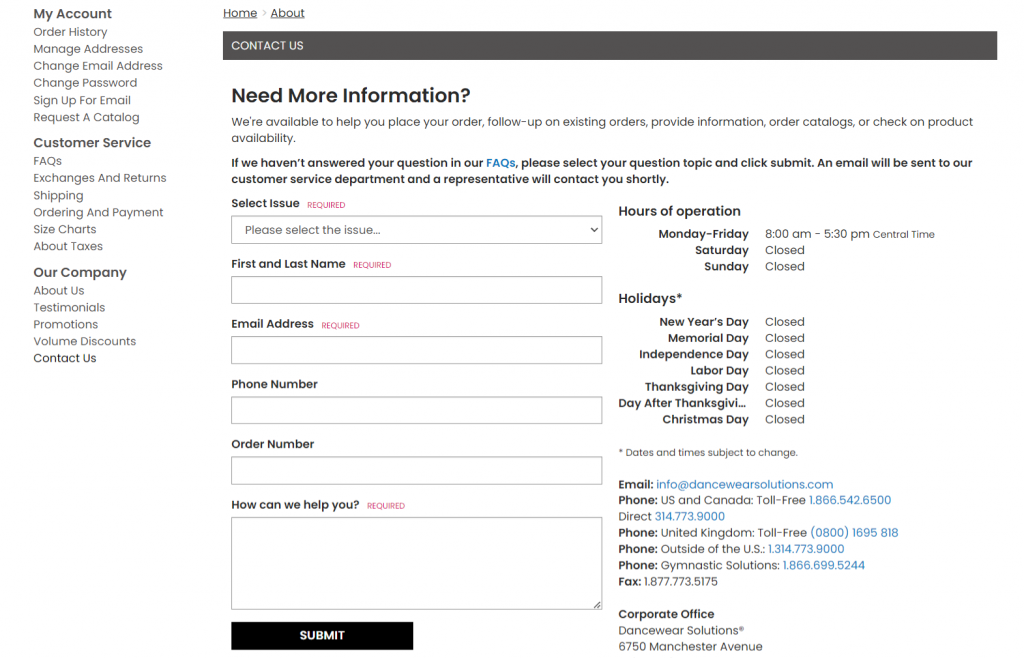 Dancewear Solutions does not provide a real-time chat option but does provide a contact page that you can fill out if you want. This page includes information about your order and any other details a customer service rep may need. You can also check out their contact section to learn their email address or find their mailing address, which is useful when sending items back for refunds or exchanges.
How to Return a Dancewear Solutions Item
Returning Dancewear Solutions products is a relatively simple product that includes printing out an exchanges and returns form and filling it out. Follow these steps to get started;
Go here and download and print the PDF for the exchange form
Write your customer name, number, order number, email address, and phone number
Fill out the "Items Being Returned" section, including style, size, color, reason code, and quantity
Complete the "Exchange Items For" section, including style, size, color, and quantity (if applicable)
Send the form directly to Dancewear Solutions and wait 7-10 days before contacting them
You must mail your document to this address:
Dancewear Solutions
ATTN: Exchanges & Returns
6700 Manchester Ave
St. Louis, MO 63139
Please look through the extensive "Return/Exchange Reason Codes" and fill them out according to your needs, such as if the item was too large or too small. Then, select the "Issue Refund Check" if, for any reason, you cannot get the amount credited to your online payment or credit card account.
How Do I Check My Dancewear Solutions Order Status?
If you want to check our Dancewear Solutions order, including its return status, you can do so easily online. First, you'll need to create an account with them, which is free and may provide you with special deals. Then, follow these steps to check your order status:
Sign into or create a new Dancewear Solutions account here
Click on the order status section in your unique personal profile
Select the order you have either returned or purchased
Please read through the information here to learn more about its status
You may also call Dancewear Solutions or use their contact form to learn more about your order status. This option is helpful if you would rather not create a Dancewear Solutions account when making a single purchase. Otherwise, online tracking is far easier to handle.
What Items Cannot Be Returned to Dancewear Solutions?
Dancewear Solutions will not accept returns or exchanges for:
Undergarments
Tights
Make-up
Hair and footcare items
Opened Swarovski bulk crystal packs
Discontinued or clearance items
Any used items
Products without their original box
Conclusion
We give Dancewear Solutions a return policy score of 9 out of 10. We love their 60-day return window and think they explain their options reasonably well. Though it would be nice if they accepted opened or used items, it is understandable why a clothing manufacturer would not.