Mar 13, 2023
Mar 14, 2023
The rise of e-commerce has forever changed the way that customers purchase products – and return them. As consumers, we've come to expect the return policies of online stores to be as quick and easy as possible.
But for many online sellers, hassle-free return policies such as free reverse shipping come with plenty of downsides. For instance, have you ever wondered what percentage of items sold online are returned?
You've come to the right place to find out. Join us for a look at the impact of high return rates on online retailers. If you sell products online yourself, you'll also find some key statistics that provide helpful hints about ways to lower your return rates without changing your policies.

How Much Do Companies Lose from Returns?
According to the latest statistics from the National Retail Foundation (NRF), consumers returned $816 billion dollars worth of products in 2022 alone. The survey revealed that for each $1 billion the average retailer earns in sales, they lose up to $165 million due to returned merchandise.
But it isn't just overly enthusiastic shoppers who are costing retailers money. Among the more shocking parts of the survey were those that revealed how often retailers deal with various types of return fraud.
50% of retailers reported losses due to "wardrobing." Wardrobing is a type of "friendly fraud" that typically involves buying a piece of clothing, wearing it once for a special occasion, and then returning it for a refund.
Over 41% of retailers reported discovering that returned merchandise had been stolen.
At least 20% reported falling victim to organized retail crime returns.
Overall, the study concluded that for every $100 of returns that retailers accepted, they lost around $10.40 due to return fraud schemes.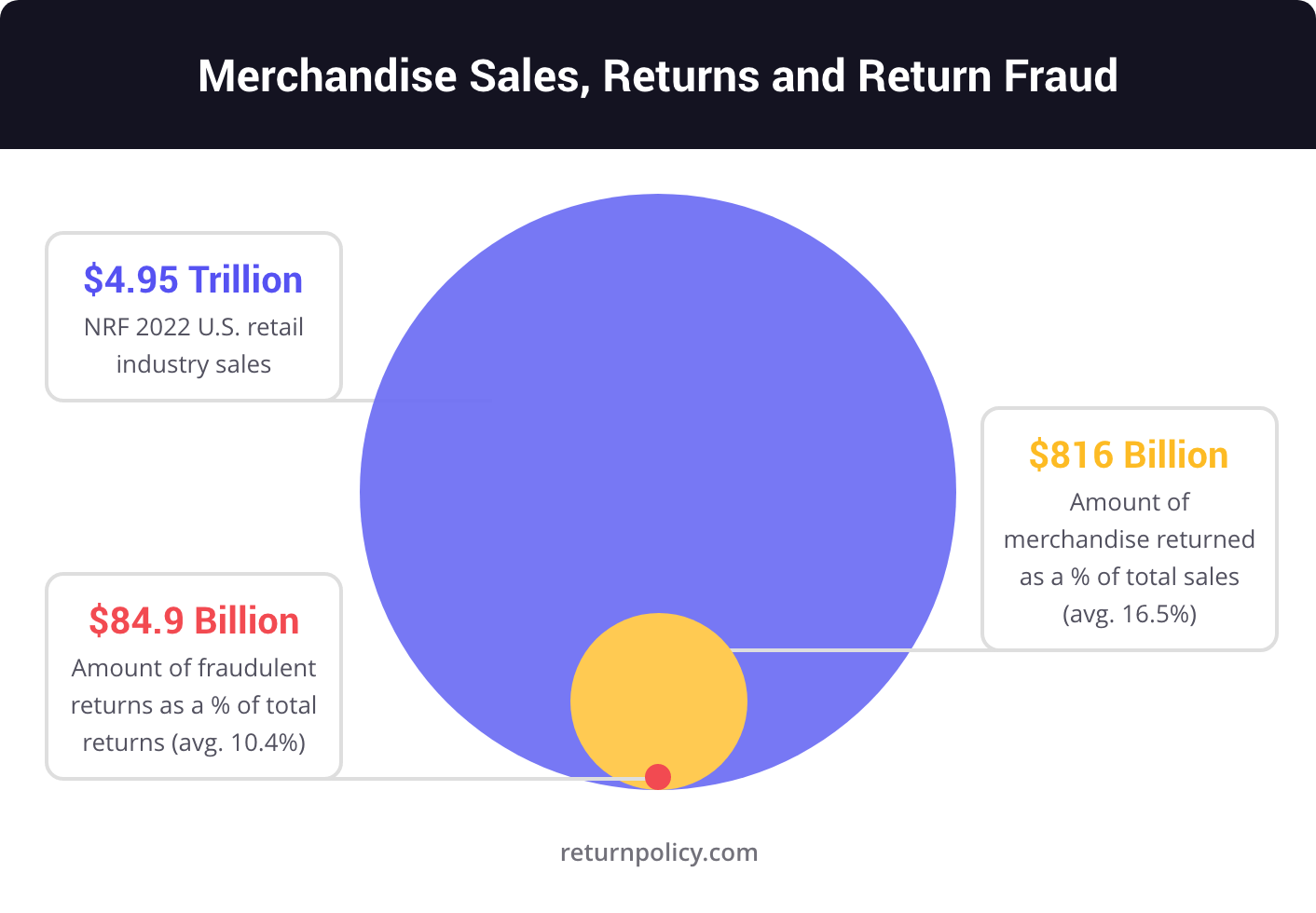 | | | |
| --- | --- | --- |
| Details | % | Amount $ in Billions |
| Total Amount of Fraudulent Returns | 10.4% | $84.9 |
| Total Amount of Fraudulent Returns (In-store) | 10.4% | $62.1 |
| Total Amount of Fraudulent Returns (Online) | 10.7% | $22.7 |
What Is the Average Return Rate on e-Commerce Sales?
So, what percent of online purchases are returned to the retailer? The answer changes from year to year, sometimes drastically. But in 2022, the online return rate hovered at around 16.5%, which was a decrease from 20.8% in 2021.
Ecommerce vs Brick-and-Mortar Store Return Rates
Online sales now account for roughly $1.29 trillion of the overall retail sales in the USA. That's why the NRF makes a point of tracking the return rates from online sales vs those made in traditional brick-and-mortar stores.
| | | |
| --- | --- | --- |
| Details | % | Amount $ in Billions |
| NRF 2022 U.S. Retail Industry Sales(1) (In-store and online) | 100% | $4,950 |
| Total In-store Sales | 73.9% | $3,660 |
| Total Online Sales | 26.1% | $1,290 |
| Total Amount of Retail Returns | 16.5% | $816.75 |
| Total Amount of Retail Returns (In-store Sales) | 16.5% | $603.9 |
| Total Amount of Retail Returns (Online Sales) | 16.5% | $212.85 |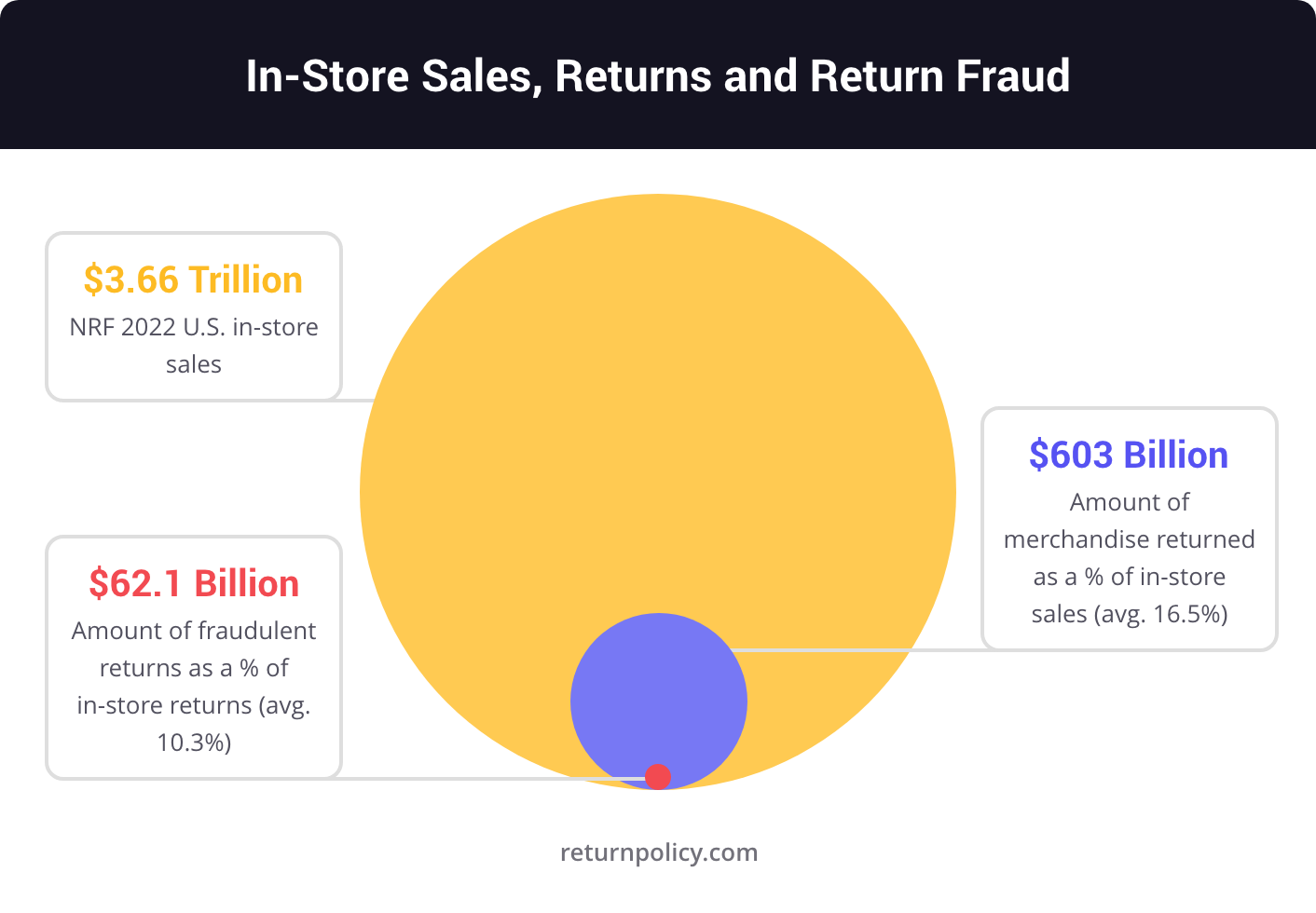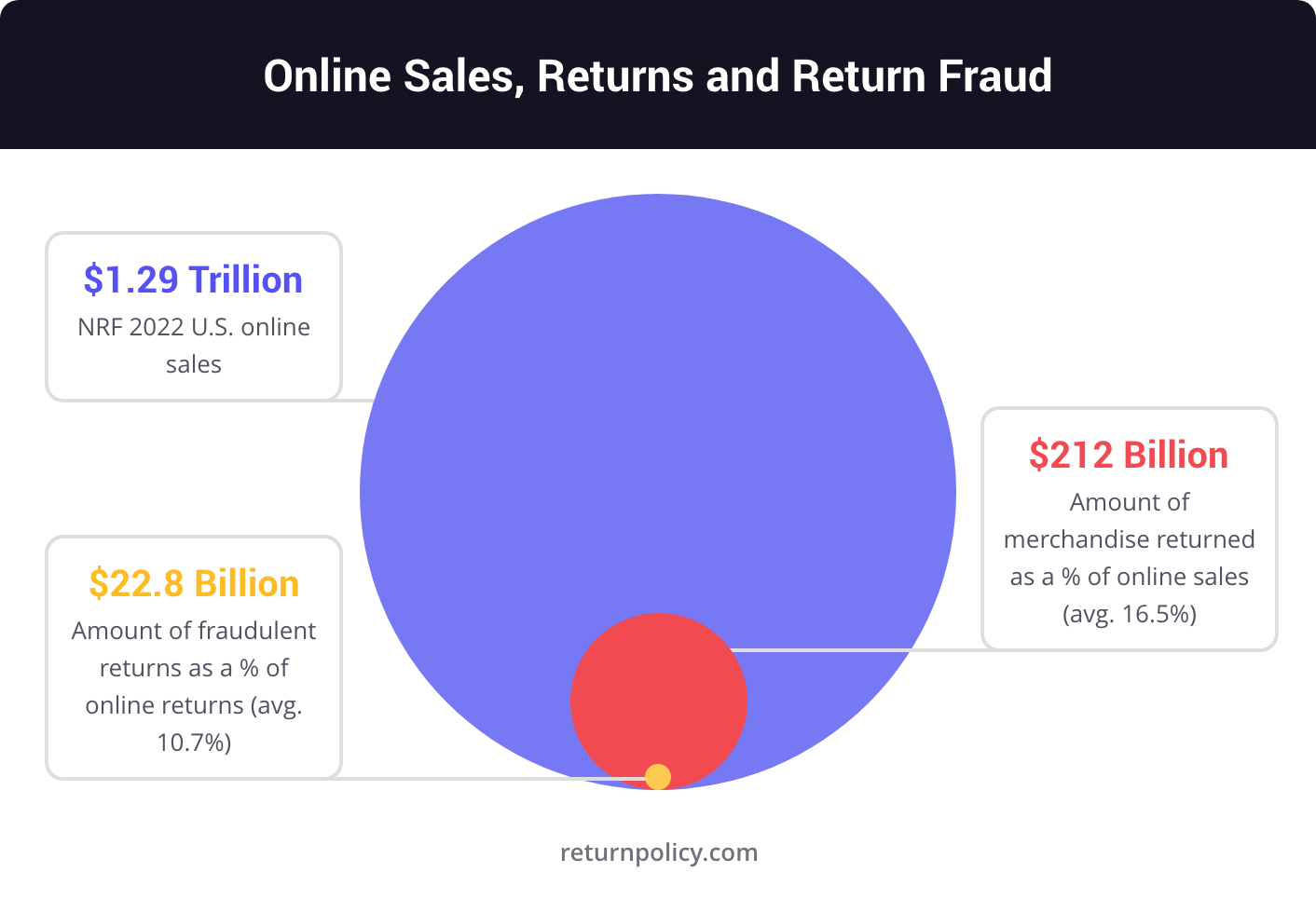 For the first time since they began collecting online sales data, the organization's latest survey discovered that e-commerce returns in 2022 were consistent with the overall rate of returns. In other words, customers return about the same percentage of items in-store as they do online.
What Effects Did the Pandemic Have on Product Return Rates?
In 2020, at the height of the COVID-19 pandemic, a report from Periscope by McKinsey declared, "The COVID-19 pandemic is upending the retail industry to an extent that would have been unimaginable one year ago." Amid global lockdowns, online retail suddenly became a necessity for many customers, even those who may not have used it as their preferred shopping method in the past.
Consequently, it's no surprise that in January of 2021, the NRFs report revealed that online return rates had more than doubled in 2020.
e-Commerce Share of Total Global Retail Sales 2015-2024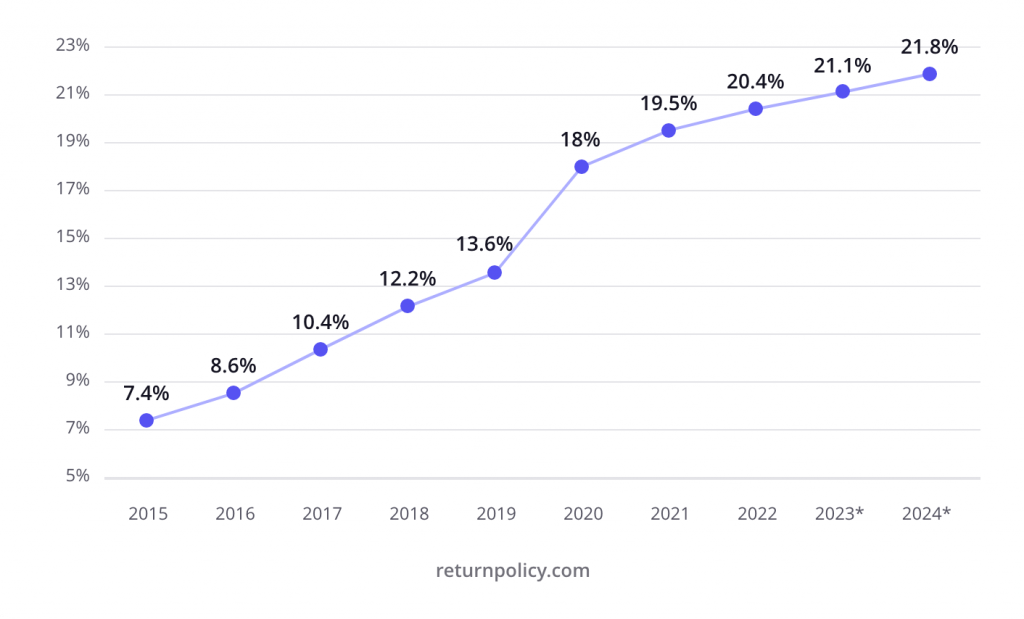 According to the International Trade Administration, the increased popularity of online shopping doesn't appear to be a trend that will diminish any time soon. Even after the days of widespread masks and lockdowns, consumers are continuing to flock to e-commerce sites in droves.
Given this new influx of online shoppers, it's no surprise that retailers are attempting to update their return policies to appeal to larger digital audiences.
What Percentage of Online Retailers Cover the Cost of Returned items?
While many online stores like Amazon, Nordstrom, and Nike now offer return shipping labels, not all retailers have been so quick to adopt such generous policies. Recently, a returns management platform called parcelLab conducted a study of the 200 largest online retailers in the USA.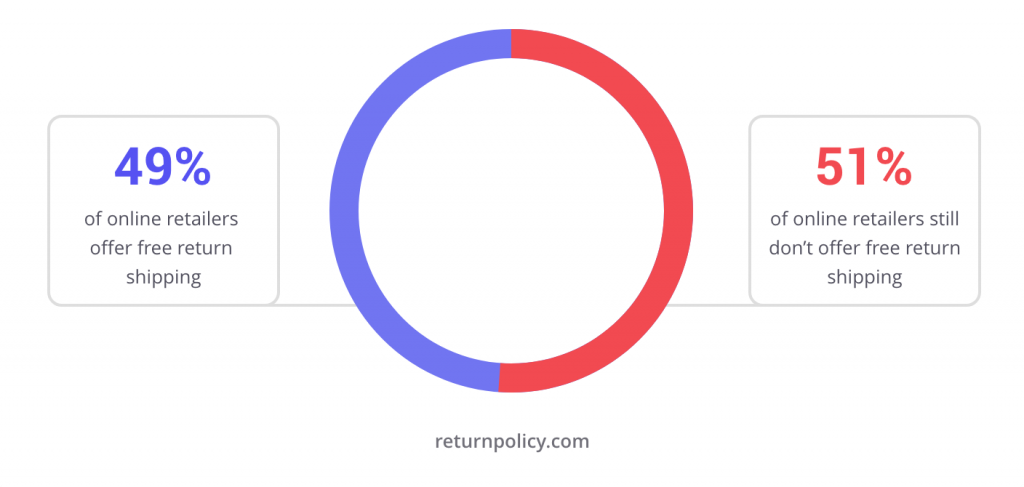 They discovered that while 53% of consumers think that retailers should cover the cost of returns, 51% of online retailers still don't offer free return shipping. But do free online return policies result in more returns?
Not necessarily, as it turns out. The study also spoke with over 1,000 shoppers and discovered the following statistics: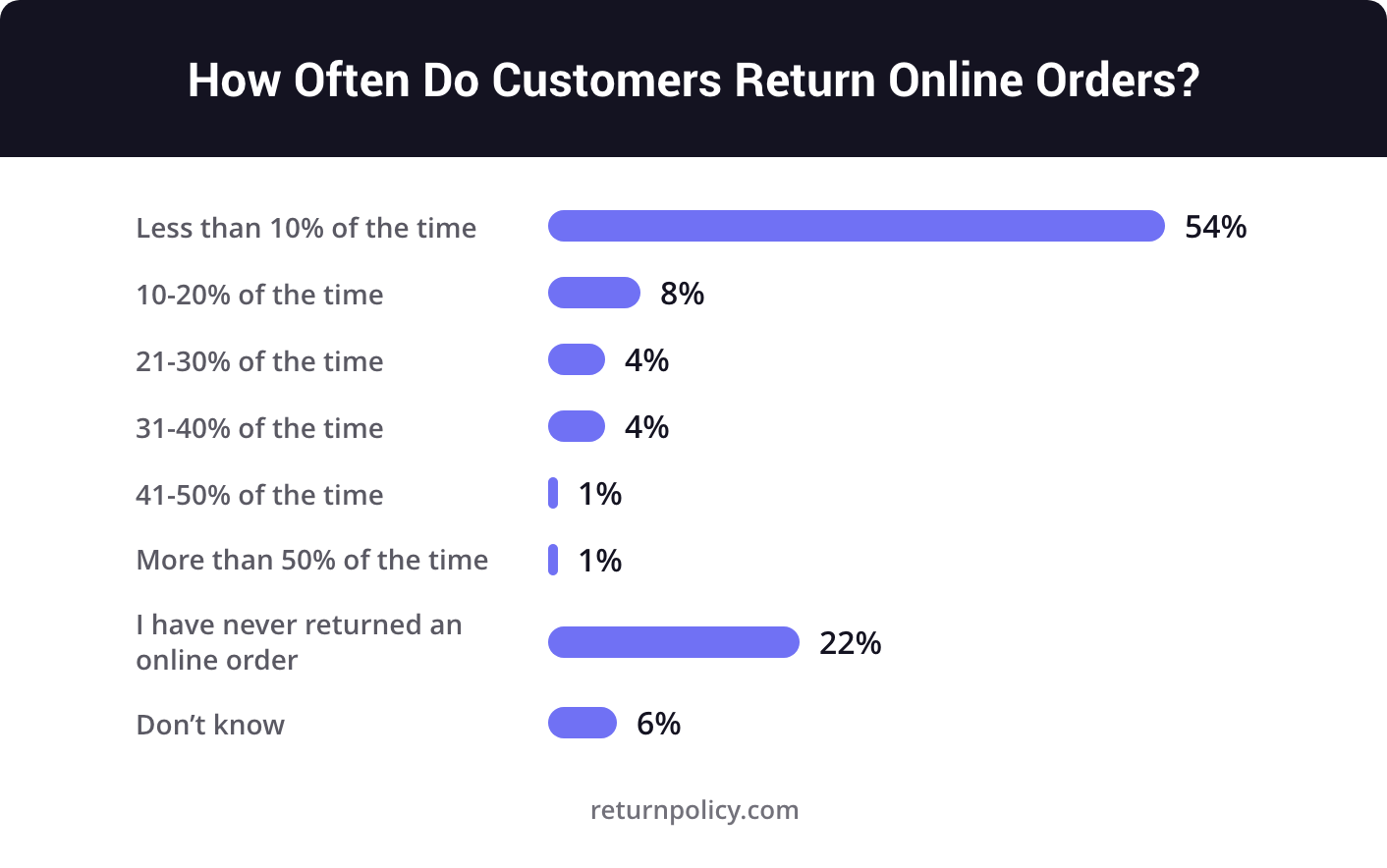 78% of shoppers had returned purchases at some point.
22% said that they had never used online returns.
54% said they only returned online orders less than 10% of the time.
Nonetheless, many retailers appear to be rethinking their free return policies. CNBC recently reported that up to 60% of retailers are planning to make changes to their return policies in order to tighten their margins.
The Impact of Product Categories on the Return Rate of Items Bought Online
Some product categories experience higher return rates than others. Those at the top of the list will likely come as no surprise.
According to data from Statista, clothing accounts for the highest return rate by far, followed by shoes and electronics. Here's a look at the most returned online purchases by U.S. consumers:
Return Rates by Product Categories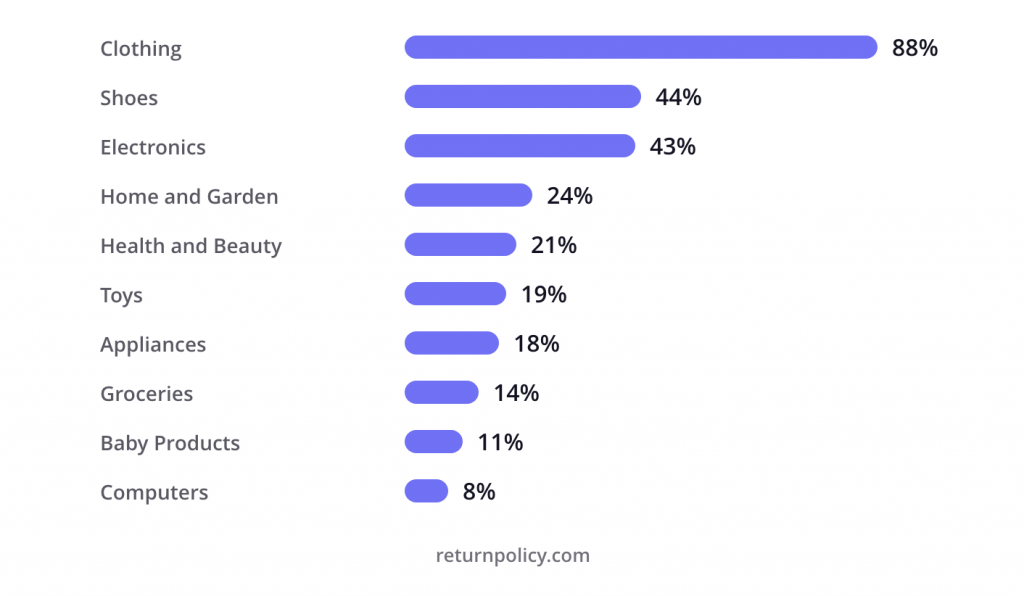 The Potential Environmental Impact of High Return Rates of Online Purchases
Amid the chaos of the COVID-19 pandemic, few consumers were able to consider the environmental repercussions of online returns. While e-commerce vs brick and mortar returns have now leveled out, back in 2020 online returns outpaced traditional returns by 3x.
As a result, online returns generated 16 million metric tons in carbon emissions during their journey back to suppliers. Additionally, returned items that were unable to be resold ended up as 5.8 billion pounds of waste in landfills.
"The reverse logistics are always going to be nasty because the merchandise, in most cases, cannot be resold as it was originally," Mark Cohen, director of retail studies at Columbia Business School, told CNBC. "The most expedient pathway is into a dumpster, into a landfill."
What Is the Importance of Tracking Return Rates for Online Retailers?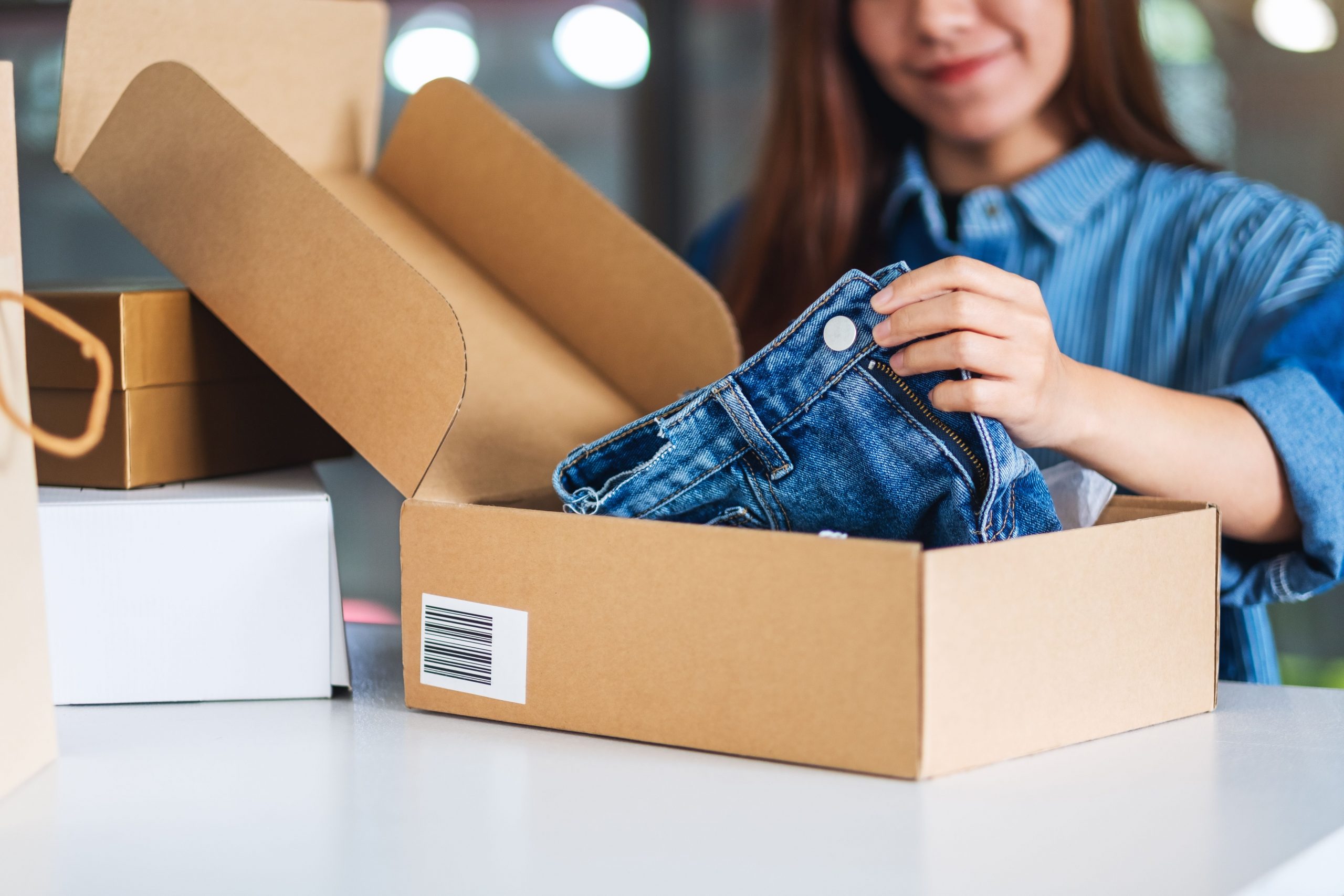 As every online retailer knows, tracking metrics such as sales and revenue are vital to the health of a company. But return rates are an incredibly important metric to track as well.
Not only is tracking your average rate of return essential for accounting purposes, but it can also give you valuable insights into potential gaps in your business model. This is particularly true if you take the time to find out the reasons behind the returns.
Staying on top of your average rate of returns can help you measure things such as:
If you notice a product that's being returned at an exceptionally high rate, it may be time to investigate why. Sending out satisfaction surveys can be a great way to identify any problems, such as quality, durability, or incorrect sizing information.
Order fulfillment accuracy
Are customers receiving the wrong products? If so, then the issue may lead back to your order fulfillment team.
While having a generous return policy can be a great way to attract customers, it's important to make sure that you can afford it. If the number of returns you're receiving is eating into your profit margin, then it may be time to get a little more specific about the type of returns you'll accept.
This is particularly true if you start to notice an increase in returns due to fraudulent trends like wardrobing. By simply tightening the conditions in your return policy, you may be able to save a great deal of money without completely rewriting your policy.
What Are the Consequences of Frequent Product Returns for Online Retailers?
While many retailers feel increasingly obligated to offer a seamless return process, not all businesses are prepared for the downsides of frequent returns. More online customers are now engaging in practices such as "bracketing," particularly when it comes to clothing.
Bracketing is when a customer buys the same product in several different sizes or colors with the intention of keeping only one piece of merchandise. After making their final selection, they send the other options back to the retailer.
If the retailer offers a free return policy, this can get incredibly expensive. Even if the retailer only offers an in-store policy for online sales, some end up with more returned merchandise than they have room for or struggle with complicated logistical challenges.
On the other hand, retailers can face a whole other set of consequences if the frequent returns are due to subpar products or poor customer service. In these cases, a surge in returns may also lead to bad customer reviews, which is never good for business.
This can be particularly true for small retailers on sites such as Etsy, eBay, or Spotify. All it takes is a few bad reviews to tank your reputation on such sites for good.
The Impact of Free Returns on Online Shopping
To offer free returns or not to offer free returns – that is the question for many online retailers today. Unfortunately, there's no easy answer, as both options come with their own set of pros and cons.
On one hand, return policies have become incredibly important, as 92% of customers say they'll buy from a company again if offered an easy return process. Additionally, 80% of all customers rank returns as one of the most important overall buying considerations.
On the other hand, even offering free returns isn't always enough, given that over half of consumers say they don't own a printer or prefer not to print off shipping labels. It's also important to consider that 58% of customers now admit to making online purchases they intend to return due to the rise in trends like bracketing.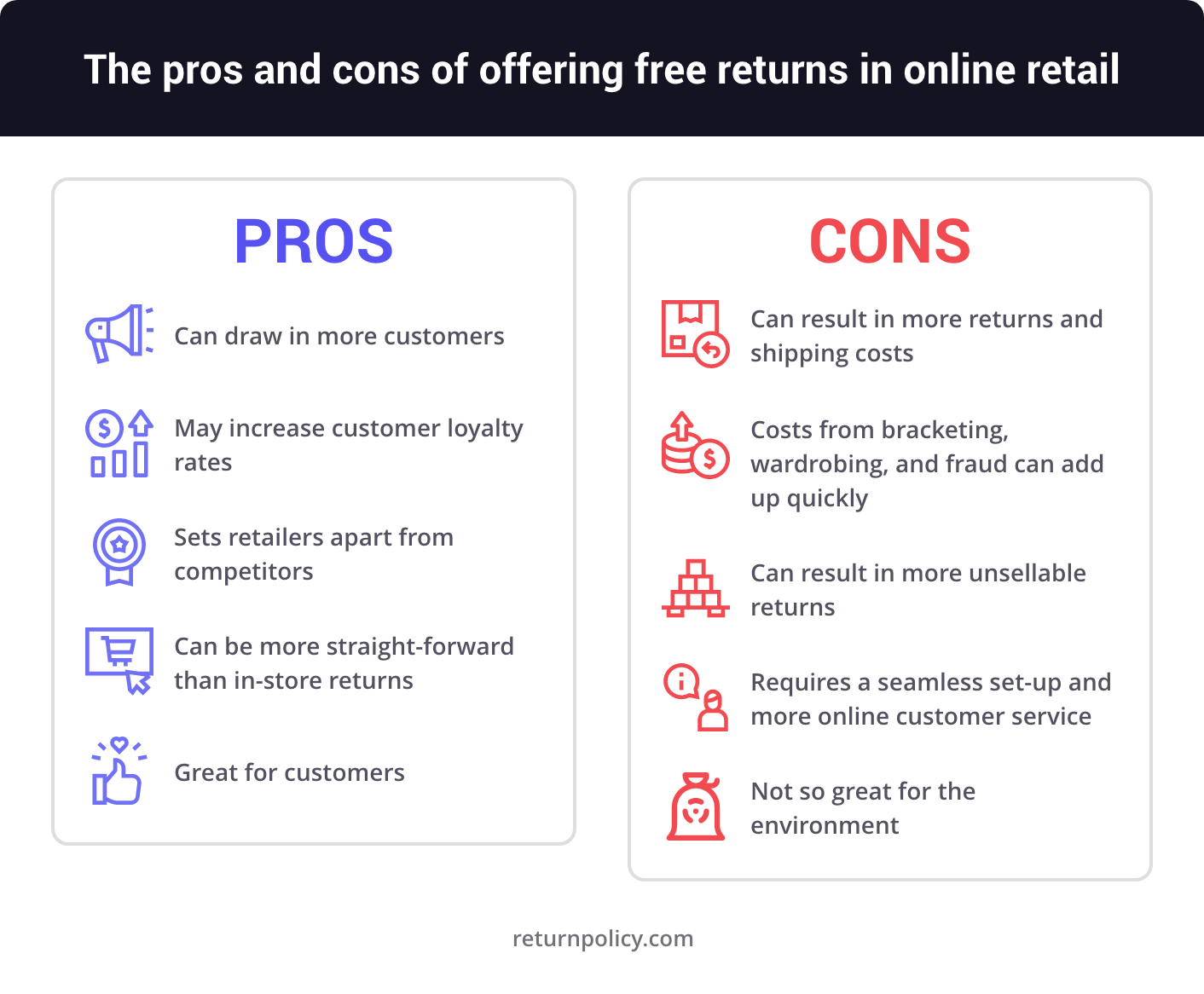 Overall, the pros of offering free returns boil down to the opportunity to expand your buyer base and enhance customer loyalty. The trade-off is the need to ensure that you're bringing in more additional revenue than you're losing in reverse logistics costs.
What Is a Good Average Return Rate?
It can be difficult to nail down a solid percentage when it comes to defining an acceptable product return rate. This is due to the fact that some industries naturally have higher return rates than others.
Pet products, for instance, tend to have much lower return rates than clothing. Determining the ideal return rate for your business will largely come down to benchmarking it against the standard in your industry.
Of course, it's also important to track the return rates that your business experiences regularly. By tracking your own rates of return over time, you can quickly spot any large spikes in returns and investigate to find the root of the problem.
Factors That Contribute to High Return Rates in Online Shopping
The good news is that, whether your business chooses to offer free shipping or not, there are several tactics that can help lower your return rate. The first is to identify why you're receiving so many returns in the first place.
Simply offering a satisfaction survey is a great way to get insights, as most customers are happy to reveal their reasons for returning a product. While the reasons behind high return rates will vary depending on your industry, a recent study by Power Reviews revealed some of the most common.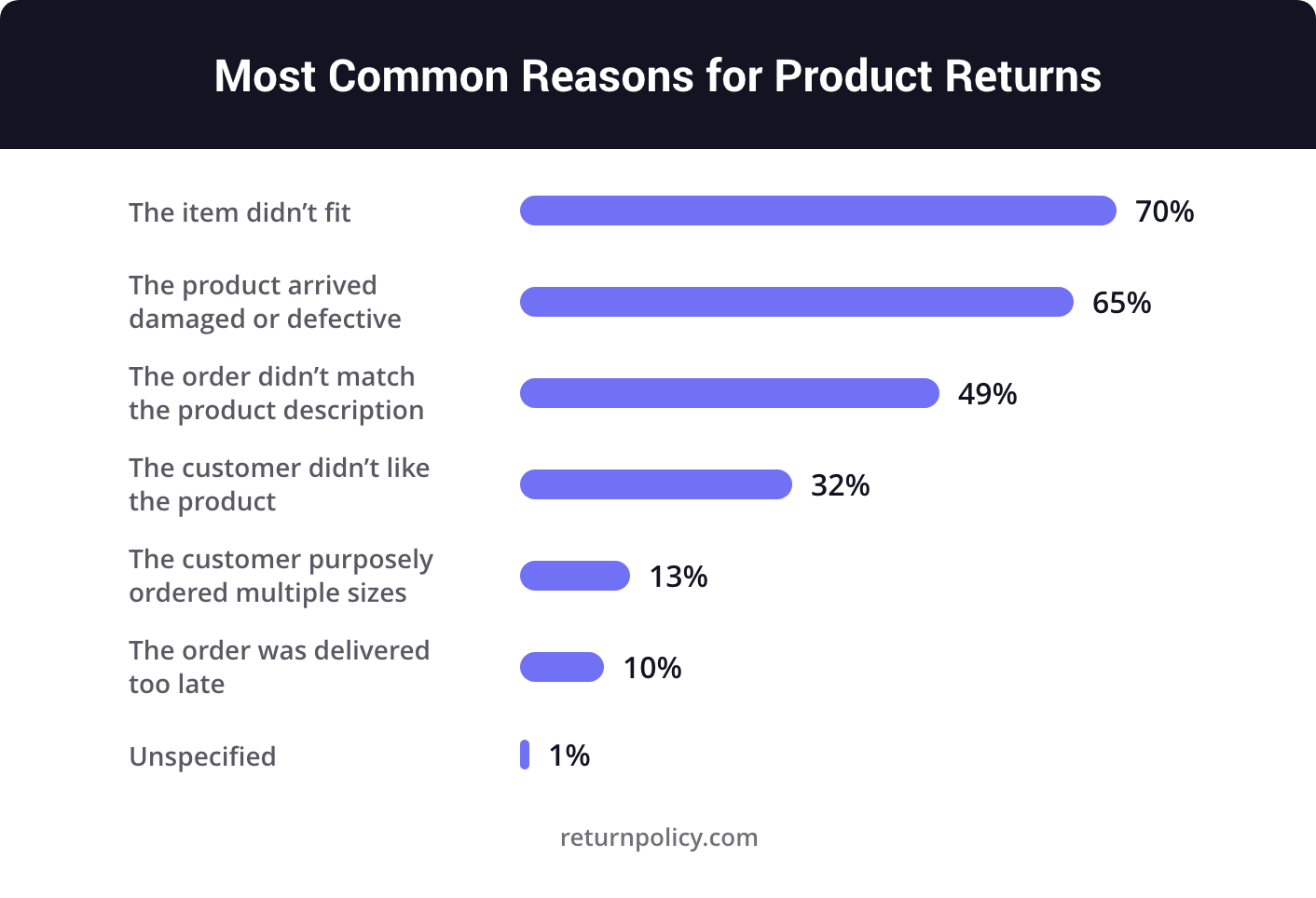 Ways to Reduce Return Rates
With the above information in mind, let's look at a few things that online retailers can do to help lower their return rates. Apart from a few, many of the most common reasons behind returns are preventable with a little extra effort on the retailer's part.
Even if these tactics don't eliminate your return rates entirely, they can help decrease them and save you a great deal of time and money.
Never Underestimate The Importance of Product Descriptions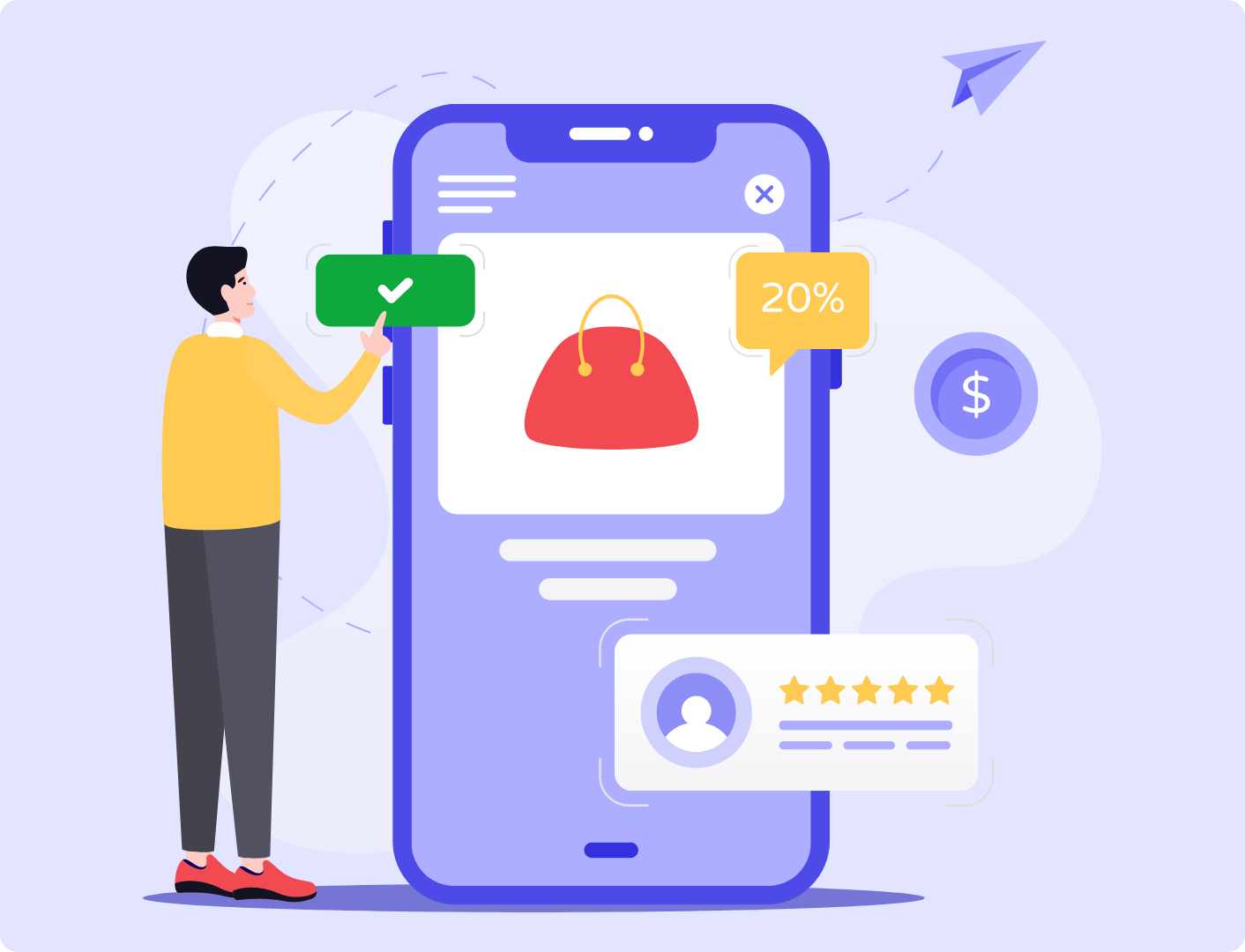 In looking at the chart above, you can see that the most common reason that items are returned is that they didn't fit. Unfortunately, this will always be a reality to some extent when it comes to buying clothing online.
But it's also where the importance of a thorough product description can come into play. Sometimes retailers get so caught up in trying to convince customers to purchase an item that they forget to include important details.
For instance, if your item runs big or small, then be sure to let your customers know. Including sizing charts with the metrics used in a number of different regions can also be an easy way to help your customers find the correct size.
Additionally, keep different body types in mind when selecting your models. By showing customers how your product fits customers of different shapes and sizes, you'll give them a more realistic idea of how it will look when they first try it on.
Last but not least, keep in mind that it's vital to give as honest a product description as possible. As you can see from the chart above, customers are not at all shy about returning items that don't match their descriptions.
Using false or misleading advertising to drive up sales is a self-defeating tactic, as nearly half of all customers will simply return their purchase for a refund. Not only does this mean less revenue and more costs for your business, but the loss of a customer's trust that you may never win back.
Consider Including Customer Product Reviews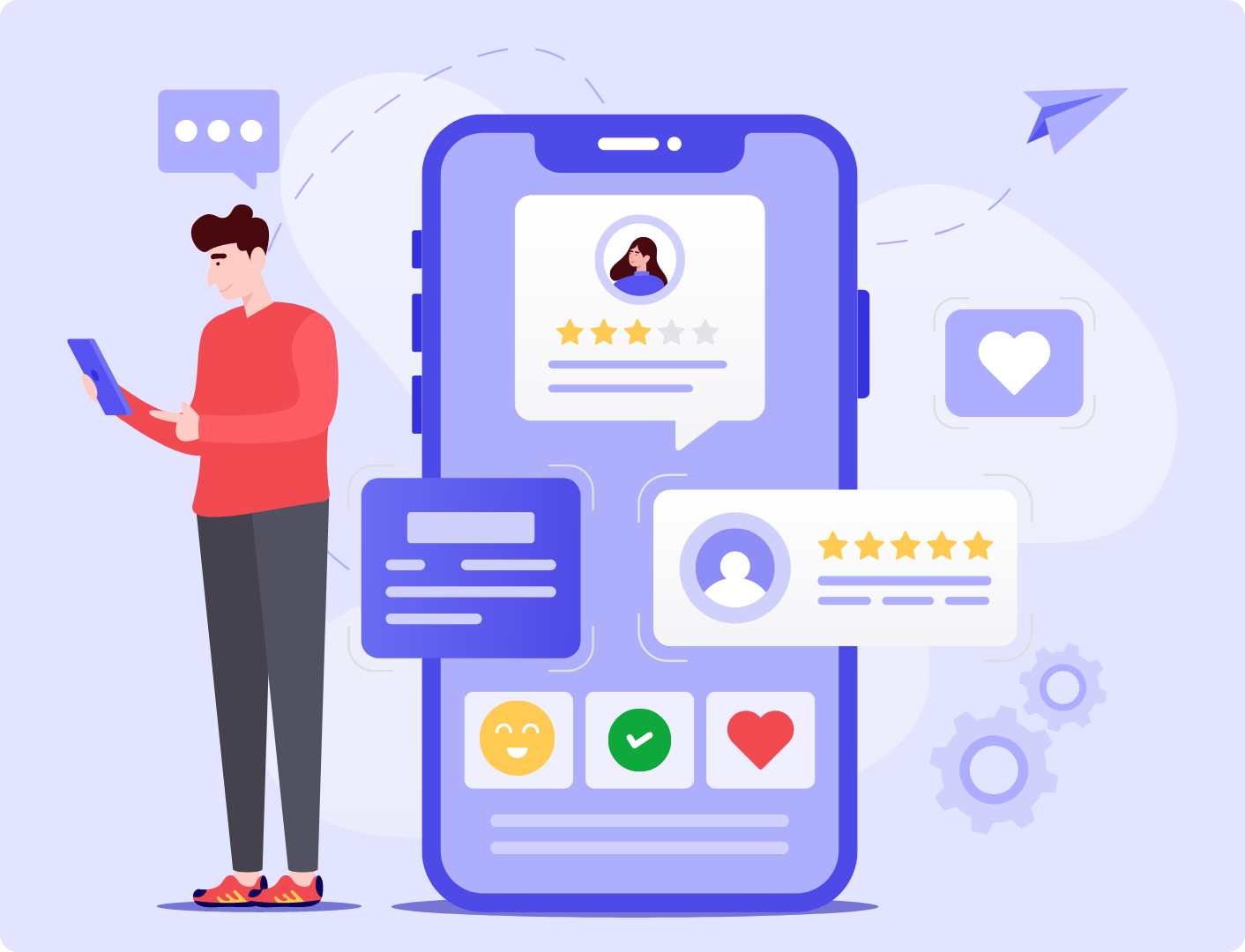 Any entry-level marketer will tell you that posting solid customer reviews on your website can help increase customer trust. But the temptation of many retailers is to pick a few great reviews to post and leave it at that.
But there's one thing that top online retailers like Amazon, Walmart, and Home Depot all have in common. All their products feature unedited review forums with rankings and comments by real customers.
Ironically, the fact that some products get negative reviews helps convince customers that they can trust those that receive higher customer ratings. Additionally, by allowing customers to upload product photos and videos, sites like Amazon make it far easier for potential shoppers to find what they're looking for.
For example, even if a shoe brand isn't aware that a certain model tends to run a bit small, customers will generally be quick to point it out in the review section. This can save future shoppers from ordering the wrong size or convincing them to take a closer look at your sizing chart.
Using Social Media to Reduce Return Rates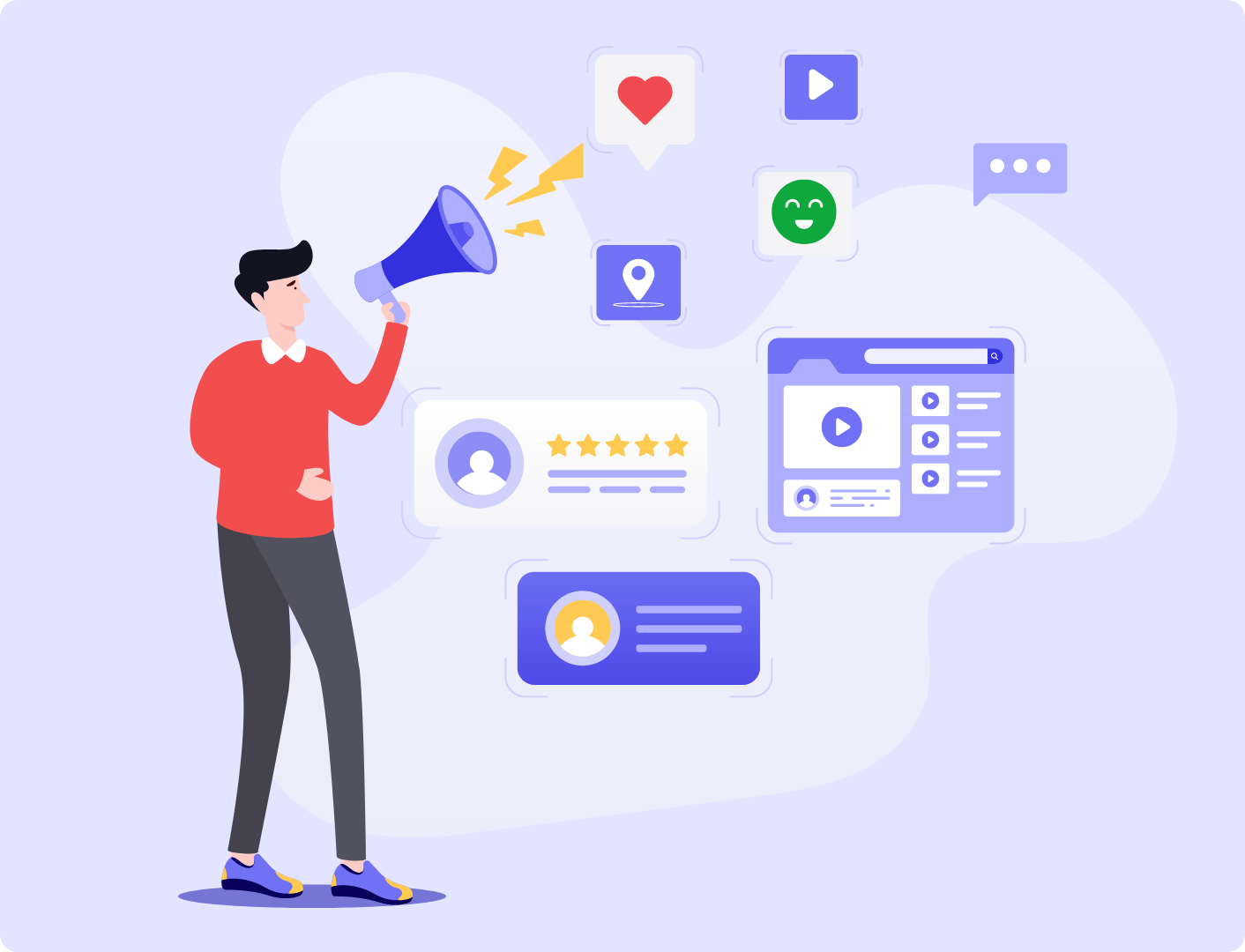 Even if you don't have customer reviews directly on your website, you might consider doing a little social media marketing. By posting ads for your products on sites like Facebook and Instagram, you'll create a free forum where customers can share their thoughts and experiences with your brand.
Creating a strong social media presence can also go a long way when it comes to increasing brand awareness and interacting with your customers. This can be particularly helpful if you sell products in a category, such as software or electronics, that customers may need help learning to use.
Social media sites offer sellers the opportunity to connect directly with buyers. Not only can you answer any questions your customers may have directly, but you'll also get an idea of any common issues they may be facing.
You can then address these issues directly on your account. For example, you might upload infographics, videos, or articles that teach viewers how to use certain features of your product. This can help cut down on unnecessary returns and create customer loyalty.
Conclusion
As eCommerce continues to grow in popularity, many retailers still find themselves in unchartered territory when it comes to how best to approach returns. While many sellers began offering more generous return policies during widespread COVID lockdowns, it will be interesting to see how many stick with such policies as their physical stores start to reopen.
At the moment, online retail in general still seems to be going through a period of trial and error when it comes to finding the perfect return policy in an evolving economy. Whether you're a customer or a retailer, we hope that the information you found here has helped give you a better idea of the impact of online returns.
The responses below are not provided, commissioned, reviewed, approved, or otherwise endorsed by any financial entity or advertiser. It is not the advertiser's responsibility to ensure all posts and/or questions are answered.